Breakfast Chaffle Sandwich
Breakfast Chaffle Sandwich
The Keto Pro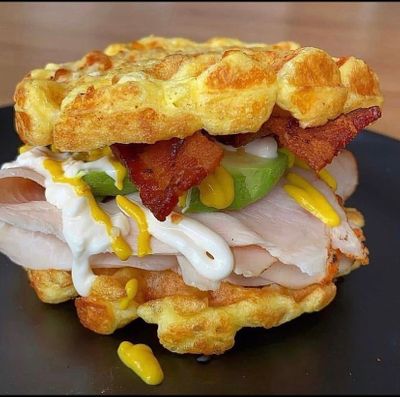 The Chaffle Breakfast Sandwich
Whether you top yours with cheese, bacon, or your favorite seasonings and herbs, you'll find that this quick and easy chaffle makes a great meal any time of day. So give it a try today - you won't regret it!
The chaffle recipe I use is 1/3 cup mozzarella + 1 egg cooked in a mini waffle maker. Makes 2 chaffles!
And then dress them up however you want!
If you're looking for a delicious and easy way to mix up your ketogenic diet, then why not try making a chaffle sandwich? This low-carb meal offers endless possibilities when it comes to ingredients. Whether you want to enjoy a classic BLT, load up on cheese and bacon, or add a healthy dose of veggies and herbs, the combinations are endless. Packing your chaffle with flavor is as simple as combining quality ingredients with your favorite seasonings. No matter what toppings you choose, you're sure to love the savory taste that this quick and easy sandwich brings!
From BLTs to cheese-filled sandwiches, there's something for everyone when it comes to chaffle sandwiches. Enjoy the flavors of your favorite fillings in a fun and creative way with these low-carb meal options. With endless possibilities to customize your sandwich and make it uniquely yours, you'll love how the savory flavor of this tasty dish brings some excitement to your keto diet. Chaffle sandwiches are sure to satisfy your cravings while helping you reach your health goals!
Start Keto Diet Today
If you're looking to improve your health in many different ways, a ketogenic diet may be for you! There are many benefits of following a keto diet, and we hope this blog post has helped you learn more about some of them! Start Keto!